Postponed
---
Due to the COVID-19 pandemic the Summit has been postponed. Planning for the summit continues (see details below). Please check back here for updates or email us at DT2020@mneep.org if you have any questions. Thank you.
We are excited to announce the 2020 Design Thinking Summit (DT2020). The summit is focused on finding and advancing actionable solutions to create and sustain a racially diverse teacher workforce in Minnesota. As always, we would love to have you and your organization represented in and engaged with an inspiring network of people passionate about teacher diversity in the state of Minnesota.
Date: TBD
Time: 8:30 AM – 4:00 PM
Location: St. Cloud State University
651 First Ave S
Atwood Memorial Center
Saint Cloud, MN 56301
---
A team lead registers for their team (team member names are not needed yet at registration).
The summit capacity is 40 teams of 5 persons per team.
Early bird registration @ $500 per team ends on TBD.
Regular registration @ $750 per team ends on TBD.
Registration includes a light breakfast, lunch, and free parking.
Participation in the summit is contingent on payment in full by TBD.
Please e-mail to DT2020@mneep.org if you have any questions.
This is not your typical "summit", rather it will be an engaging professional learning experience as we build individual capacity and collective wisdom to advance systems change towards a future where all of our students experience teachers who look like them.  While a team lead can register before a team is fully formed, do start thinking about how to organize your team of up to 5 members. How are you part of the solution along the MnEEP's TeachMN2020 teacher journey framework of Explore, Become, Grow, and Thrive? (See ImprintU.org) . How might your team experience a breakthrough by sharing in this professional opportunity together?
We encourage cross-functional teams so as to include the multiple perspectives of diverse stakeholders (example: parents, teachers, students, administrators, teacher preparation providers, community/business leaders). Teams can also be formed across institutions and even regions.  
You may not know exactly which part to work on yet at this point, and that's okay. If you wish, we are available to coach your team on the initiative/program/idea to focus on and prepare for the summit, and even talk through who could/should be on the team.  Regardless, we will be contacting and working with all the team leads way in advance of the summit.  So do reach out and let us know how we can support you at DT2020@mneep.org
A team comes to the summit with a program/initiative/idea for advancing teacher diversity.  As we described in the previous section, we are available to support you in forming your team and/or in honing in on a "project".  We will be contacting and working with all the team leads way in advance of the summit. 
At the summit we are designing multiple engaging activities to support you and your team towards individual and collective capacity to advance actionable solutions for teacher diversity. Here are some general activities we planning so far:
Collective norming exercise around barriers to teacher diversity
Opportunities to work within your team
Opportunities to work and learn with with other teams in the same family of projects (for example, organized by Explore, Become, Grow and Thrive)
Opportunities to work and learn with teams not in the same family (various combinations such as: Explore and Become, Grow and Thrive, Become and Grow, Thrive and Explore)
Exercises to deeper our individual and collective roles in advancing systems change
Exercises to apply strategic frameworks and tools to create draft action plans
A special thanks to the generous support of St. Cloud State University's School of Education, parking will be free all day for the DT2020 Summit at the 4th Ave. Parking Ramp. The address for the parking ramp is 516 4th Ave S, St. Cloud, MN.
Once we secure a new date for the summit, we will be working hard to secure a block of hotel rooms at a conference rate. So please stay tuned.  Meanwhile, we recommend …
Courtyard by Marriot, St Cloud
Opening Remarks: Minnesota Lieutenant Governor, Peggy Flanagan (invited)
Lead Facililator: Libby Rau, Youthprise Chief Innovation Officer
We will post a draft agenda soon. Please check back later. Thank you. 
Sponsor Information
We are grateful to the sponsors to date who have committed resources for the DT2020 Summit:
Greater Twin Cities United Way

School of Education, St. Cloud State University

Youthprise

The Graves Foundation

The McKnight Foundation

 
We are seeking additional funding through sponsorships to honor the capacity it takes to ensure a successful summit, and to potentially support the following expenses (figures are all estimates):
Scholarships to help with cost of registration ($500 per team, based on need/available funds).

Stipends/subsidies for travel-related expenses especially coming from more than 3 hours ($200 to $500 per team based on need/available funds).

Stipends/gift cards for volunteers, many will be from the Future Teachers Club at St. Cloud State (e.g. 10+ @ $100).

Meals for an all-day summit (200+ @ $40 per person: breakfast, lunch & snacks)

Follow up tasks to continue engaging teams (e.g. webinar, coaching). We do want this summit to be a one-off event, but an integral part of the collective impact effort of TeachMN2020. 
Please review the chart below to see the benefits of becoming a sponsor for DT2020 Summit.  Thank you for exploring. Please contact us if you have any questions at DT2020@mneep.org.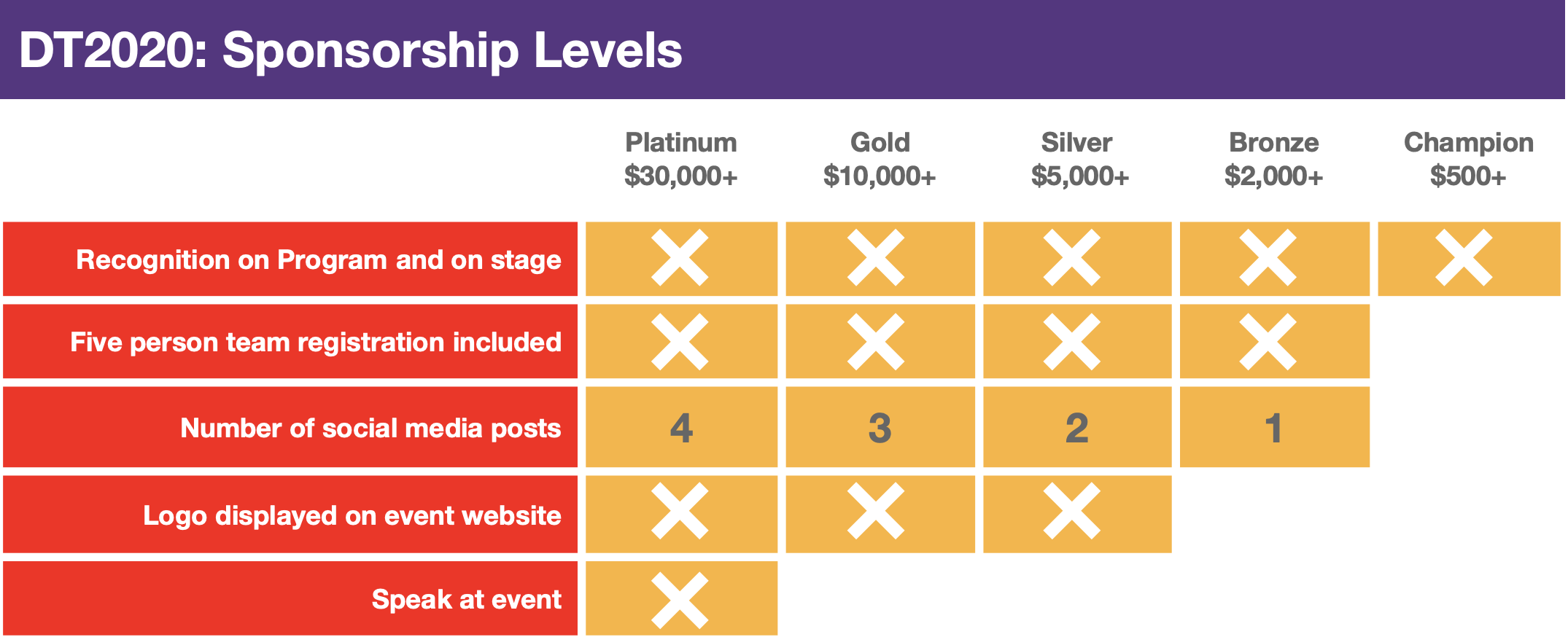 ---