Emerging Multilingual Learners (EMLs) have so much to bring to classrooms across Minnesota, yet many educators see ELs (English language learners) as having a deficit. How can we work to shift perceptions and practices to engage and support this growing population in Minnesota? In other words, how can educators start to connect with the numerous cultural and linguistic assets EMLs already possess?
Recently, I participated in an English Language Development standards framework retreat hosted by the Minnesota Department of Education and the WIDA Consortium. WIDA produced the standards framework for English language development, after the No Child Left Behind Act of 2001 brought English Learners into the spotlight for school accountability. As a WIDA state,  Minnesota uses the organization's English language proficiency screener and assessment called ACCESS.
During this retreat, we learned about WIDA's philosophy in developing standards for English language development. One piece of the organization's theory is the "Can Do" philosophy.
From the organization's mission: "At WIDA, we believe that everyone brings valuable resources to the education community. Linguistically and culturally diverse learners, in particular, bring a unique set of assets that have the potential to enrich the experiences of all learners and educators."
This focus is on what EMLs can do. By understanding the linguistic, cultural, experiential, and social and emotional assets that EMLs bring, educators and schools can better support their learning and academic advancement. (See table below)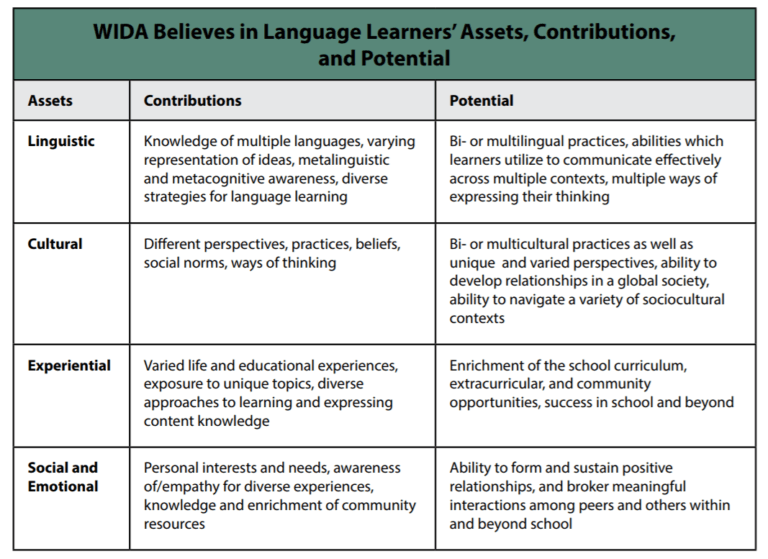 I think about the EMLs I have met, and the adult English language learners I have taught, and the numerous strengths they bring to classroom, including:
Linguistic
Students and learners may understand a topic from their language background or see the cognates in English. They can also solve a problem in a different way using other languages, or use stories they know as content to translate and share.
Cultural
Challenging the assumptions within the "culture of school" and offering their perspective on a lesson, students and learners integrate cultural backgrounds into a new education space. They bring opportunities to read different authors or know a piece of history outside textbooks.
Experiential
EMLs tend to come from immigrant and refugee backgrounds. They may have experienced unique journeys to the US themselves, or their families have. Their American experience also varies from their native English-speaking peers. This domain overlaps with others like culture in that they may have skills and talents to bring into school.
Social and Emotional
EMLs and adult English language learners bring their drive and ambition to integrate into a new culture and learn another language. They persevere through the negative interactions and experiences that face them. Additional support sets them up to succeed and create meaningful relationships in a new place.
The MN LEAPS Act already frames language as an asset. And as WIDA continues to promote a "Can Do" philosophy, EL education in Minnesota has great potential to support English language development in order to fully access content instruction. Families and communities have the power to demand a better education for their EMLs, with state and federal laws and an education framework backing them up.
Yet some families still perceive EL services as a deficit, or stigma placed on their child. Some classroom teachers do not see their EMLs as contributing to the lesson. Some school leaders and administrators are unaware of this student and parent population. But if we reorient our preparation, practice, development, and engagement toward the assets that the fastest growing student group brings to Minnesota schools and districts, academic success can look much brighter for language learners.
If you are unfamiliar with the experience of an EML, a short film depicts how Moises participates in school. I encourage you to view this piece with an asset-based mind and ask, what can Moises do?