MnEEP is excited to announce long-time MnEEP consultant Susuga Leiataua Dr. Robert Jon Peterson has been selected to receive this year's MinneTESOL Mary Diaz Award, which highlights achievements in advocacy for Minnesota's multilingual learners. "The board is excited to recognize your organization of the statewide MnEEP meetings, which promote equity for multilingual learners, as well as [Dr. Jon Peterson's] work on the new funding formula to support English Learners," MinneTESOL announced.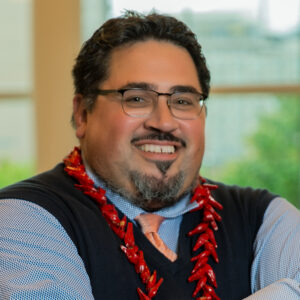 The Mary Diaz Award will be presented on November 18th, at the opening business meeting on the first day of the Minnesota English Learner Education (MELEd) Conference.

"MinneTESOL believes strongly in the importance of advocacy for immigrant and refugee English learners in Minnesota," MinneTESOL announced. "We acknowledge that the jobs of EL teachers go beyond the classroom and include many types of advocacy from connecting students to resources to lobbying legislators for policy changes. Many EL educators are very dedicated and passionate about speaking up on behalf of students and families who are often voiceless. We would like to honor this important advocacy work with the Mary Diaz Award for advocacy."
Leiataua Dr. Jon Peterson is a long-term consultant at MnEEP, where among his many leadership roles he works to build polices and practices to advance racial equity and educational excellence for Minnesota's English Learners, in pursuit of our Big Bold Goal 4: Minnesota educational leaders embrace the language and culture of each student, and vital the home language of Black, Latinx, Indigenous, and Asian students as vital to their success.
We are grateful for his leadership and dedication to advancing meaningful systems change to support and uplift Minnesota's EL students!
To learn more about MnEEP and our EL-centered efforts, reach out to jpeterson@mneep.org.