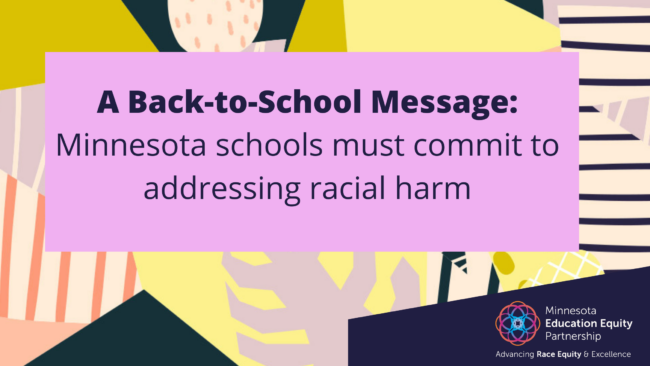 This school year, Minnesota schools must be proactive in combating racism
As Minnesota embarks on a new E-12 learning school year, we at MnEEP wish to reflect on how racism is showing up in our learning communities, particularly these last few years. Our schools and communities must work proactively to address this critical issue with the urgency it deserves.
Sadly, school news this past year has been filled with more accounts of overt racist behavior directed at students who are people of color and Indigenous (POCI), resulting in harm to their well-being.
There were racist taunts at high school sporting events; a threatening note with racist language left in a gym bag; and videos of students engaging in threatening and racist behavior, including one video of students mocking AAPI people and doing a Nazi salute.
It is difficult to ascertain whether the frequency of these incidents reflects a greater awareness of racism and an openness to report these incidents, or if these reports reflect an increase in racist behavior.
Regardless, the harm is real. It directly threatens the well-being of POCI students in Minnesota and restricts their access to quality educational opportunities.
Without clear protocols for both preventing and redressing racist acts, our POCI students will continue to suffer. And this in turn challenges the legitimacy of our schools and education systems. Ultimately, it harms our entire state.
How schools can redress and undo racial harm

It is tempting to believe the way to effectively prevent and redress racism in schools is to only address the individual behavior of students and others engaged in acts of racial hatred.
Appropriately, it should be the role of our schools to intervene and hold students and educators accountable for actions that cause harm and that impede the learning environment.
But any reputable primer on racism highlights how racial animus and bias exist at both the systemic level and the individual level.
An effective intervention, therefore, requires more than exercising a heavy hand on bad behavior. It requires addressing the systemic reinforcements of such behavior.
The goal should be to build dominant norms in each learning environment that prevent racial harm and also build proactive engagement in understanding racism and how to take anti-racist actions.
School communities must work to understand how their practices, rules, and culture enable racism. Once identified, they must proactively implement plans to undo those conditions.
Effective plans for undoing the harms of racism mean creating new conditions unabashedly advancing the well-being of POCI students. It means equipping each and all students with the skills to undo racism. It means addressing how racism shows up in classroom environments, in the core curriculum, in staff and faculty and student relationships, in relationships with the surrounding community, and more.
Making a commitment to anti-racism in the 2022-23 school year

MnEEP is aware that redressing and undoing racism has evoked negative reactions from some quarters. These have ranged from political partisans to parent groups uncomfortable with classroom discussions about race and racism. Some resistance may be rooted in fear of the unfamiliar and some rooted in racism and racial bias itself.
Yet because it is so important to the success and well-being of POCI students (and therefore, all students), schools must engage in the work to undo racism and uplift the humanity of all students.
In doing so, it is incumbent to prepare for resistance, and to do so authentically and respectfully, even using the emergence of resistance to develop healthier relationships with the broader community.
We at MnEEP will continue our work to raise awareness with schools, communities, and policymakers on the reality of racism in education and on ways to advance racially equitable educational opportunities. Our team is ready to assist and advise on this vital work.
Let us commit to ending racial harm being perpetrated in our schools. Let's work to ensure our learning environments are equipped with the tools, processes, and shared will to be racially just and equitable for all students.
Let us build those powerful spaces that validate the lived experience of every student, nurture their dreams, and support their academic achievement.
The time to take action is now.
Join us at MnEEP in the struggle for educational justice, so we can promote racial equity and excellence in education today and in the future.
The prospects of our children and our nation are being held in the balance. We must stand united for racial justice and our democratic way of life to build a Minnesota where everyone has the opportunity to thrive.