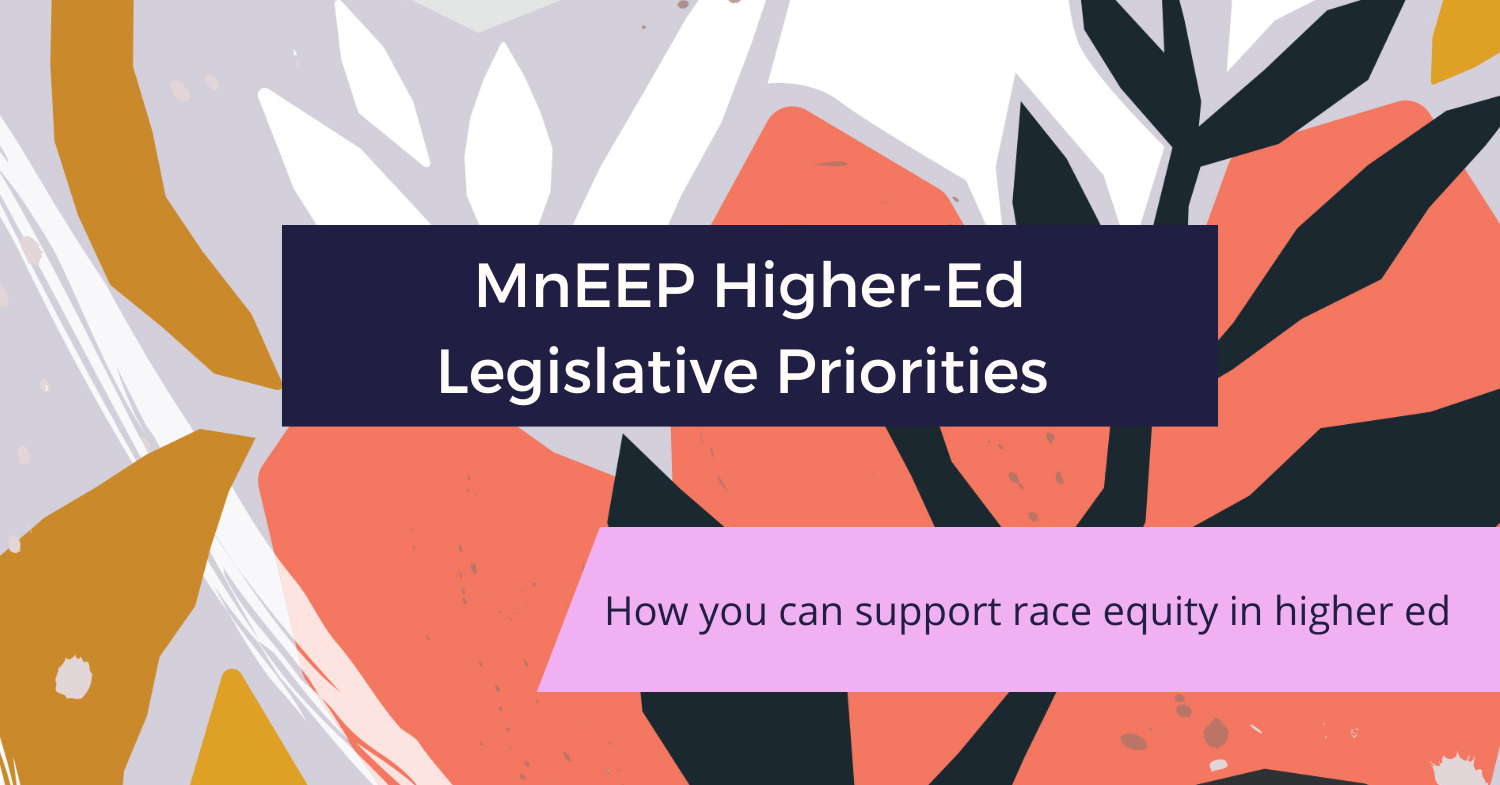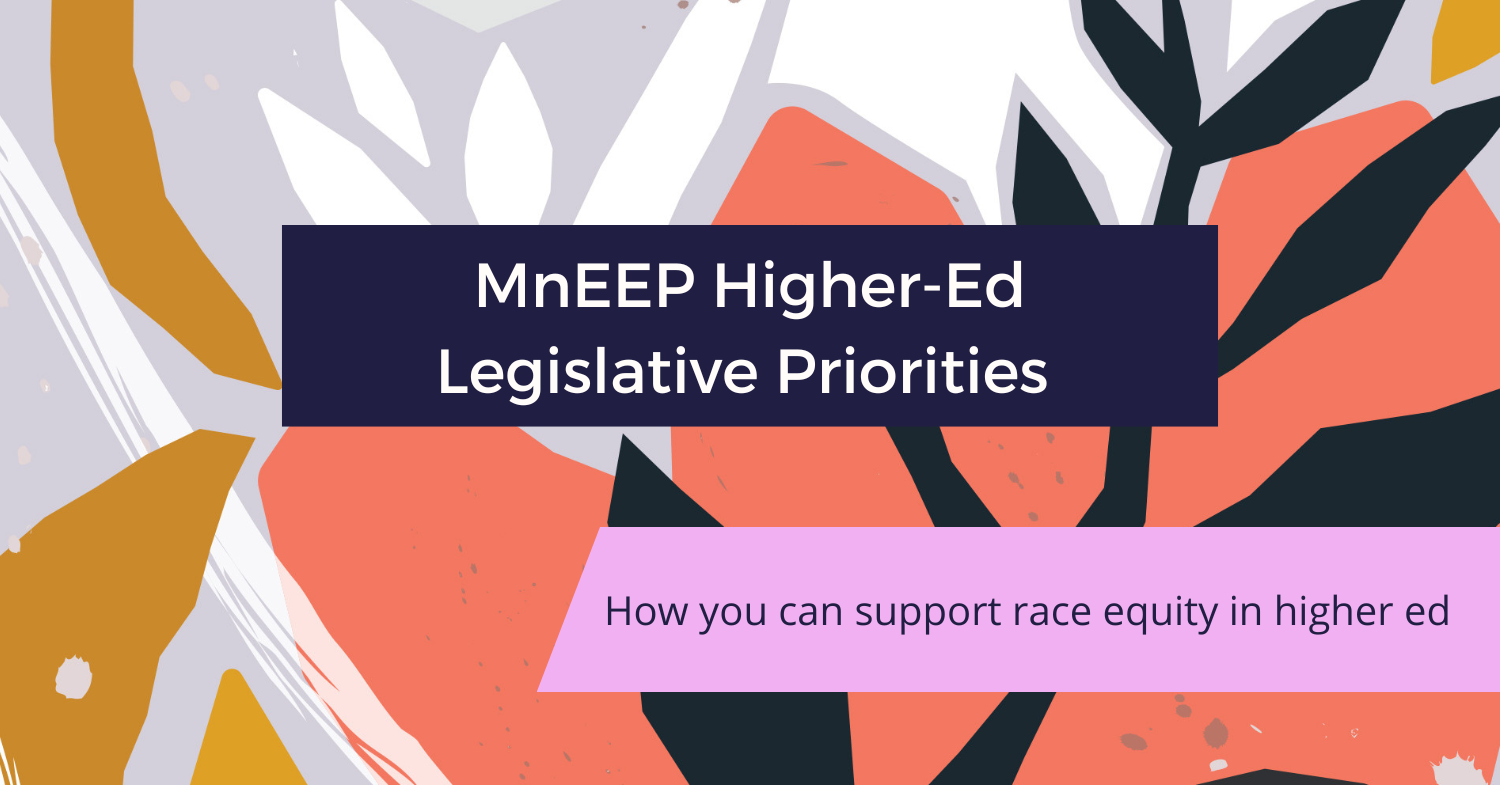 MnEEP Legislative Priorities Part 1
Building the "best state in the country" for Minnesota students: Higher education
The 2023 legislative session is now in full swing, and Gov. Walz and Lt. Gov Flannagan have unveiled their $12 billion proposal for making Minnesota the "best state in the country for kids." These new investments in public education are critical. 
Currently, Minnesota ranks 30th in the nation for its per-student investment, according to a report from U.S. News and World Report—ranking just above Georgia in per-student expenditures and below neighboring states Iowa, Wisconsin, and North Dakota. And it remains last in the country for high school graduation rates for students of color and Indigenous students (POCI). 
Minnesota's population is swiftly changing, and that means its education policies must too if we want to remain a healthy state of opportunity. 
We know that investing in and prioritizing the needs and educational excellence of Minnesota's students of color and Indigenous students is crucial for advancing racial equity in Minnesota's education systems and building a "One Minnesota" where everyone thrives. 
We propose three legislative priorities for advancing racial equity and educational excellence in Minnesota's education systems. 
Funding higher education policy reforms to remove barriers and increase college credentialing for POCI students.
Providing crucial investments and district supports for English Learners and Emerging Multilingual Learners.
Advancing Race Equity for Accelerated Learning (REAL) to expand post-secondary enrollment and graduation incentives for POCI students and EL learners.
Over the next few weeks, we will continue to uplift MNEEP's 2023 Top Legislative Priorities and how you can become involved in supporting investments and policy reforms for Minnesota's growing POCI student populations.
Let's dive deeper into why using this legislative session to transform Minnesota's higher education system is essential for Minnesota's success. 
What Minnesota must do now to advance racial equity in higher ed
Financial-aid reform 
Minnesota must address the increasing cost of college and the disparate impact it has on POCI students.
Adjust the State Grant formula to ensure it doesn't place additional financial burdens on lower-income POCI students. 
Minnesota Education Equity Partnership's (MnEEP) recent research shows that Minnesota's current financial-aid model and State Grant formula serve as an obstacle to higher-ed access and completion for POCI students, resulting in deep racial disparities for degree completion that remain among the worst in the nation.
The Minnesota State Grant is our state's needs-based financial aid program, and the only way the state of Minnesota helps low- and middle-income students cover college costs. 
Yet the State Grant formula hasn't been updated to serve the needs of Minnesota's growing POCI population. In fact, it hasn't been updated in nearly 40 years, when it was designed for a much whiter and wealthier population. 
For example, the required Student Share is still set at 50 percent, even though college costs have increased significantly. Every student receiving a state grant, regardless of personal income or family income, is responsible for paying 50 percent from other sources. However, research shows that 36 percent of the share is a key affordability indicator for people with incomes below the median. 
This matters, because we know that POCI students are more likely to have lower family incomes; they are more likely to be older and often the head of households; they are more likely to be transfer students; and they are more likely to go to two-year state colleges and attend college part-time. 
The student share of the State Grant formula must be adjusted to reflect today's students and to ensure that the state grant requirements do not remain another way POCI students are denied access to Minnesota's higher-ed systems.
Increase Cost of Living Allowance & Work Study Investments 
The calculation for the Cost of Living Allowance for financial aid is currently set for only nine months, which MnEEP research shows is another barrier to higher-ed for POCI students. 
POCI students receiving financial aid and Living and Miscellaneous Expenses (LME) are not the "typical" in-dorm full-time students of decades past. The financial aid and LME they receive must reflect their realities. 
In addition, work-study must be a financial benefit for students, not an additional burden. The average total Minnesota Work Study wages received by students each year, $1,793, is insufficient to pay for the costs of tuition, living, and miscellaneous expenses. Students eligible for work-study funding should be eligible to receive $14 an hour, commensurate with the increasing minimum wage across Minnesota.  
Developmental Education Reform 
Minnesota must reduce the disproportionate placement and financial burden of developmental education for POCI students. 
Placement in developmental education courses has historically relied on a single test, the ACCULPLACER, that determines "college readiness" for students. This single test has long served as a gatekeeper denying POCI students equitable access to Minnesota's colleges and universities and increasing their overall cost of college.
Research consistently shows POCI students are disproportionately placed in developmental education courses that do not count toward a college degree or credential–resulting in increased costs and increased time for POCI students.
Mounting evidence shows that multiple-measures placement—which relies on several key predictors for college course placement, including a student's ACT, SAT, and high school Minnesota Comprehensive Assessment test scores—reduces the cost of college for POCI students and increases their likelihood of receiving a college credential.
Last year, In May, after negotiations and agreement with the Senate, the House passed the HF 3872 bill, which included allowing for the use of multiple measures—instead of a single, outdated test such as the ACCUPLACER — to determine student placement in developmental education courses.
However, the Senate left it on the table. The agreement was never taken up by the Senate for a final vote before the legislative session ended.
It's crucial that lawmakers finalize this agreed-upon provision made last year to undo ongoing systemic barriers and inequities that deny POCI students their right to an education.  
Holistic Supports & Anti-Racist Practices 
Minnesota must invest in and build POCI-centered holistic student supports and staff professional development. 
Now, more than ever, Minnesota must invest in building critical on-campus resources and educator/faculty knowledge to better support Minnesota's POCI students. Minnesota colleges are experiencing declining enrollment, despite the legislature's goal for 2025 that 70 percent of Minnesota adults ages 25 to 44 will have a postsecondary certificate or degree.
Research shows that more needs to be done across institutions to support today's students and meet them as they are and where they are, ​​and provide them with the best pathways in college to achieve their personal and financial goals.
 In Minnesota, that means redesigning the student experience at all levels to support transfer students; low-income working students;  first-generation students; and students of color and Indigenous students.
Racially-equitable student supports are informed by the specific context of an individual student and/or the context of specific student populations along racial lines. They center each student's unique needs, experiences, and cultural knowledge as assets to the community, not as deficits that need to be "fixed."
Minnesota must invest in building staff capacity and professional development across institutions to build anti-racist practices and holistic student supports that address the unique talents, goals, and experiences of POCI students. 
==
Look for the next blog in the series, focused on how Minnesota can build the "best state in the country for kids" by investing in EL and EML students and educators.