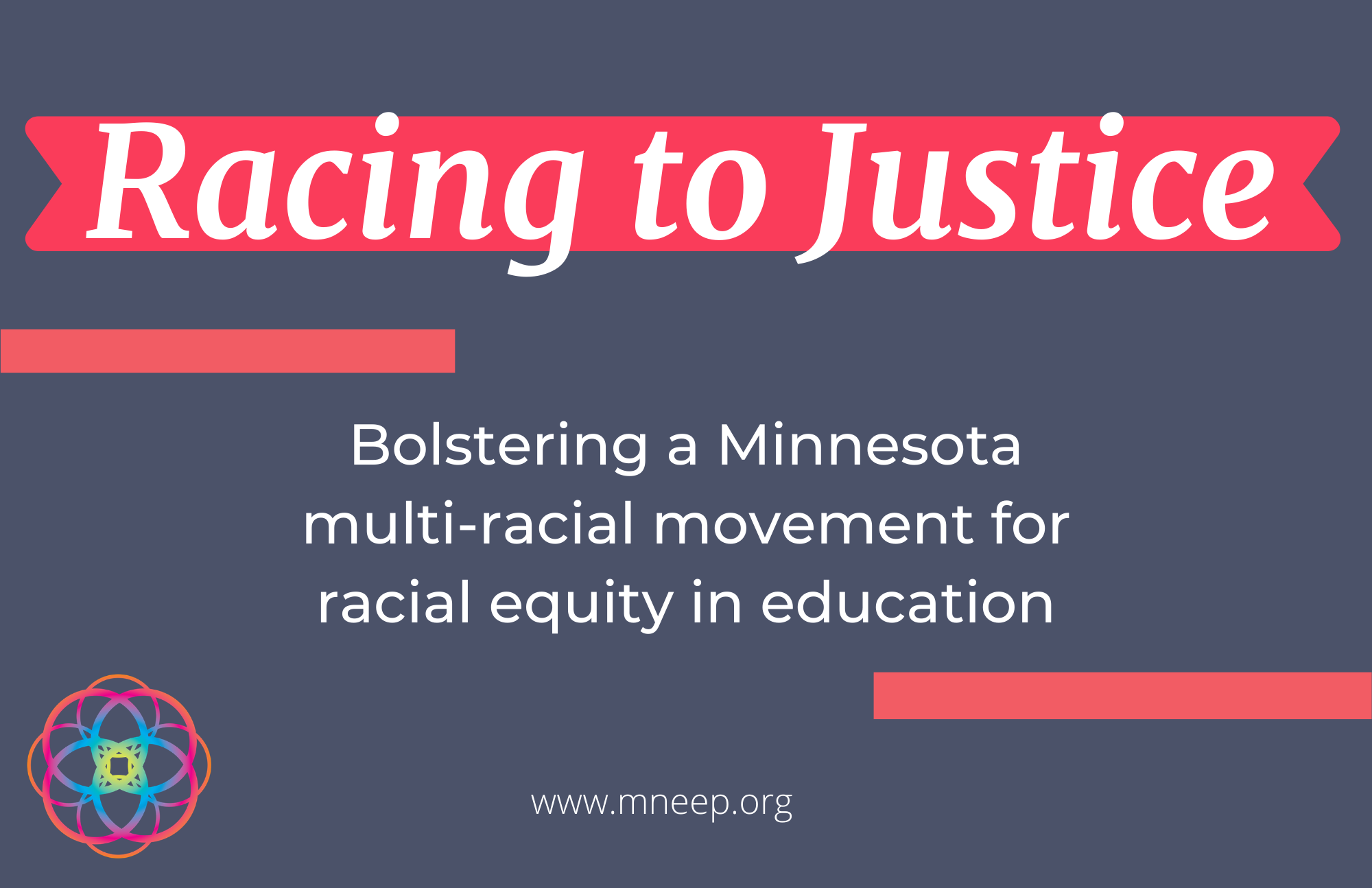 Racing to justice: What MnEEP is doing now
Dear Friends,
We are so grateful for your continued support. Your dedication and commitment to racial justice is essential for transforming systems, structures, and public narratives to advance race equity and excellence in education.
Minnesota Education Equity Partnership (MnEEP) knows that if we want to create lasting systemic change, it takes all of us working together to create new, reparative, and racially just systems where students who are People of Color and Indigenous (POCI) have the liberation and autonomy to build the future they deserve.
For more than 30 years, MnEEP has provided original research, community-led convenings, network-building, and advocacy to leaders, organizations, and institutions committed to building race equity.
This essential transformative work requires an ongoing examination of our current systems to understand how they continue to perpetuate racism and racist practices. It also requires holding these systems accountable to racial justice for POCI students.
Over the last year, the MnEEP staff and Board reflected on our work and set clear goals and intentions for our new 2021 – 2025 strategic plan for bolstering a Minnesota multi-racial movement for racial equity in education.
To that end:
MnEEP strengthened our Big Bold Goals for building race equity in Minnesota and defined key actions, tactics, and benchmarks for advancing MnEEP's research, community-led convenings, network-building, and advocacy.
MnEEP continued to develop evidence-based models and frameworks for equipping educators, schools, and districts with the essential tools and knowledge they need to address and dismantle current racist practices in education and build reparative, racially just learning environments where every student has the opportunity to achieve their full potential.
MnEEP defined key advocacy action plans for shifting policies, power, relationships, outcomes, and solutions. These seek to hold leaders accountable for committing to using a racial equity lens and to anti-racist decision-making in creating:
New civil rights legislation in education
New state plans for education policy and practice
New national and local teacher-development pathways, education, and certification;
New grantmaking for community collaborative models to guide and deliver education
Our core values continue to center our work to advance a more racially just education system where all Minnesotans have the skill, will, and autonomy to thrive.
Building radical, transformative change together

Over the next few months, you will continue to hear more from us about our current activities (research, convenings, and advocacy) and we will continue to share more tools and resources for advancing race equity in your schools and institutions.
For now:
We invite you to check out our refreshed website, which includes our new mission and Big Bold Goals;
We encourage you to learn more about our work, including research, advocacy, convenings, and networks for building race equity;
We invite you to learn about our unique programs and services for districts and educators, led by POCI thought leaders and experts;
We invite you to reflect on how we can continue to work together to fundamentally transform the historical systems, structures, and culture of racism that continue to disenfranchise students of color and American Indian students in Minnesota.
We hope you will recommit with renewed energy to being a part of these essential relationships rooted in hope and justice for Minnesota's POCI students.
MnEEP transforms systems, structures, and public narratives to advance race equity and excellence in education. We envision a racially just society in which each student achieves their full potential.
Led by People of Color and Indigenous (POCI) thought leaders and experts, MnEEP uses a race equity lens to develop and advance networks, practices, research, and policies to dismantle racism in education and build a more just, equitable society.
We work to make an impact by advancing and transforming:
Policies
Practices
Resource Flows & Research
Networks, Relationships, Connections & Convening
Power Dynamics
Mental Models & Narrative Change
Critical Response
Together, we can build equitable education spaces that uplift Minnesota's POCI students and advance racial equity and excellence in education.