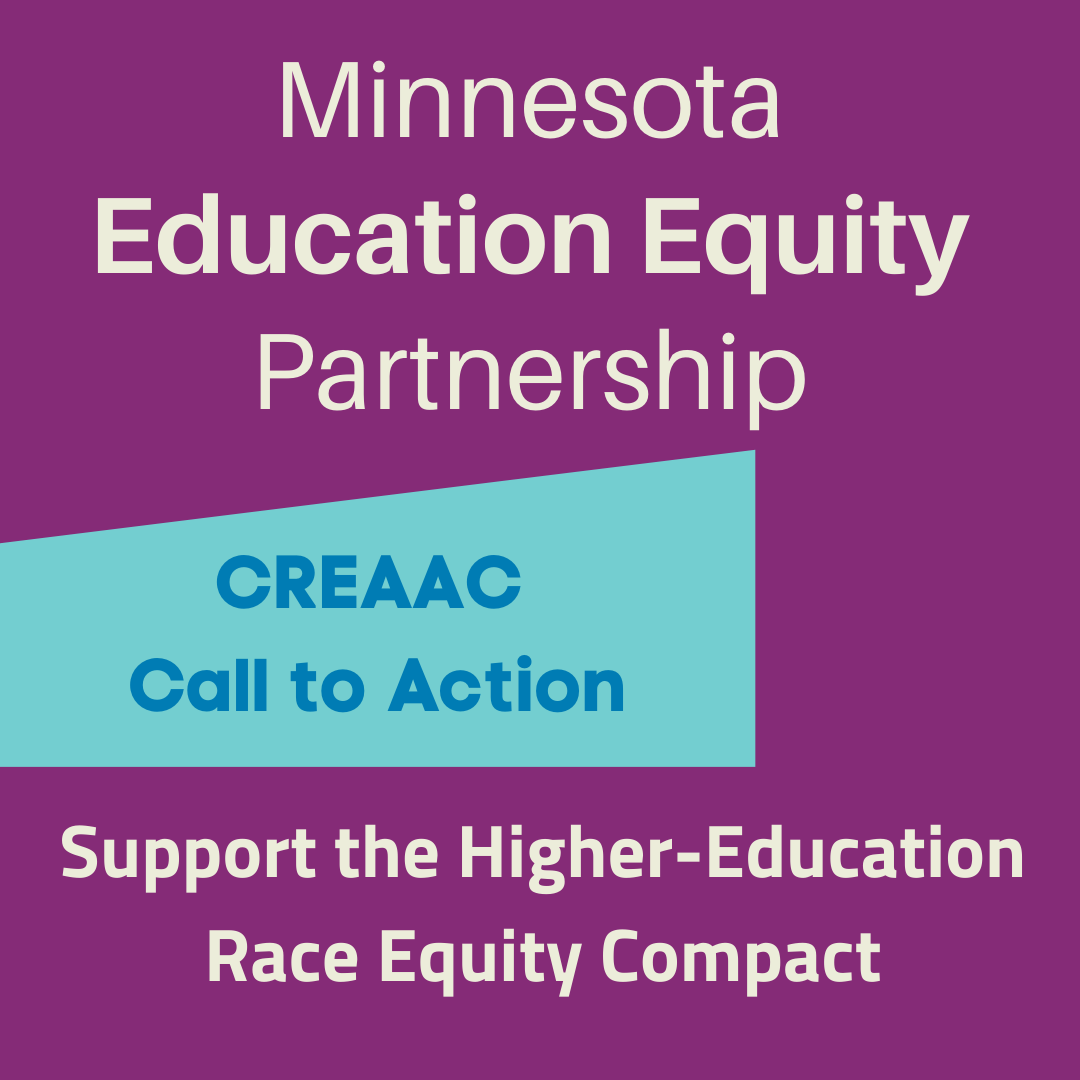 An urgent call to lawmakers to support a higher-ed race equity policy agenda now
To: Minnesota lawmakers
From: MnEEP's College Race Equity Advocacy Advisory Council (CREAAC), a state-wide, multi-racial advocacy group of higher-ed and race equity leaders.
Support the MnEEP Higher Education Race Equity Compact so all Minnestoans have the Opportunity to Thrive
Minnesotans often boast about being from a state that leads in health outcomes, innovation, and economic opportunities—but we know that reality is far from the truth for people of color and Indigenous people (POCI).
Minnesota continues to lead in racial disparities, and it is now in the midst of a true college completion crisis for our growing number of POCI students. White students in Minnesota are more than three times as likely than American Indian students and more than twice as likely as Hispanic and Black students to earn an associate degree or higher (Minnesota Office of Higher Education, 2019).
This critical racial disparity is harming our students, our families, and our communities, and it's putting our businesses and local economy at risk. What's more, these stark inequities, which have been exacerbated in recent months by the COVID-19 pandemic, are a threat to Minnesota's future.
Minnesota must increase its graduation rates
In 2015, the Minnesota Legislature set a target goal that 70 percent of Minnesota adults ages 25 to 44 will have attained a postsecondary certificate or degree by 2025. This essential legislation was drafted in an effort to develop a skilled workforce and promote personal prosperity across the state of Minnesota.
Yet continuous barriers to higher education for POCI students make these goals of educational attainment and prosperity for more Minnesotans out of reach.
Now is the time for the state to create and implement a new, racially equitable higher-education model that reinvests financial resources in POCI students and addresses their unique needs for support. A new model must specifically serve POCI students with affordability and in college prospecting, applying, and completion if we want to build a more robust financial future for all Minnesotans.
Minnesota's financial-aid system hasn't been updated in 40 years
Let's be clear: Minnesota's higher-education financial aid system wasn't built to serve POCI students. When the State Grant was designed in the early 1980s, Minnesota was a much "whiter" place. In 2000-01, 10 percent of public high school graduates in Minnesota were POCI students.
In 2019-20, 29 percent were. And in the next 15 years, it's expected to increase to 42 percent. Yet the State Grant formula remains the same as when it began 40 years ago, and does not fairly assess the unique financial needs of POCI college students.
For example, the Student Share is still set at 50 percent, even though college costs have increased significantly. And the Living and Miscellaneous Expenses (LME) don't fairly reflect the costs students face. In fact, the Minnesota Office of Higher Education has found that significant changes to the State Grant are needed to make college affordable for lower-income students in Minnesota.
This matters, because we know, for example, that POCI students are more likely to have lower family incomes; they are more likely to be older and often head of households; they are more likely to be transfer students; and they are more likely to go to two-year state colleges and attend college part-time.
The current higher-education financial model punishes these students and actually places a higher financial burden on them.
Our state's current higher-education financial aid models is but another way systemic and structural racism is sustained in Minnesota. And it must end now.
Minnesota lawmakers must take action now to build a more just higher-ed system
We know much work needs to be done. But in a time of crisis, these first actions are essential if we want to increase college completion and build a more racially just and financially robust Minnesota.
We call on the Minnesota state legislature to support The MnEEP Minnesota Higher Education Race Equity Compact (MnHEREC) and:
Prioritize race equity in college access and completion: As the number of POCI students grows in Minnesota, the state must put race equity at the center of all higher-education plans by investing funds in new models and employing anti-racist practices in order to propel the success of all POCI students.
Remove financial barriers that deny POCI students their right to an education: The state must redesign Minnesota's current higher-ed financial aid policies to address and support the unique socioeconomic needs of POCI students, who are disproportionately low income.
Redesign institutional systems and practices to support POCI student success: Higher-ed institutions must be required to develop and provide personalized, equitable, and meaningful support systems and pathways that address POCI students' unique needs.
Advance anti-racist teaching practices and environments in higher-ed: The state must provide funding to support ongoing professional development in culturally responsive teaching, race equity, and anti-racist teaching practices for all higher education faculty and staff.
The Minnesota Higher Education Race Equity Compact (MnHEREC) will:
Prioritize race equity in college access and completion

Provide support and hold systems accountable for all POCI students attending high poverty schools and/or districts to apply for financial aid at a goal level of 85% of the state's POCI student population.
Use a race equity lens in development of all new education policies and investments to prioritize POCI student success and increase their college degree completion.

Remove financial barriers that deny POCI students their right to an education

Lower the Assigned Student Responsibility for the Minnesota State Grant from 50% to 46%, which will get us closer to an amount students can cover through reasonable work and borrowing.
Increase Living and Miscellaneous (LME) to 115% of poverty level for nine months, which will bring us closer to the actual living and educational costs students face.
Extend State Grant eligibility for up to 135 credits, to better support transfer students, who are disproportionately POCI, and may lose credits in the course of transferring, by giving students enough State Grant eligibility to complete bachelor's degrees.
State Grant funds should continue to cover developmental education courses for State Grant recipients, but not count against 135 credit eligibility. POCI students are over-placed in developmental education, which costs students money but does not earn them credits towards their degree. When developmental education courses count against State Grant eligibility that means students can run out of funding when they are close to finishing their degree.
Conduct a study of the Minnesota Work Study program to analyze how the program will be expanded to meet the needs of POCI college students and enable more students to work on campus at a living wage.

Redesign institutional systems and practices to support POCI student needs and increase their success and college completion:

Develop a statewide plan for implementing Guided Pathways with a specific focus on race equity
Phase out 75% of traditional developmental education offerings in three years (traditionally defined as prerequisite course sequences that are not credit-bearing toward the attainment of a degree) and reinvest into holistic student supports like tutoring, student connections, and mental health supports.
Implement multiple measures to determine course placement (such as GPA, self-reporting) so that prospective students are not placed in development education courses based solely on Accuplacer scores.

Advance anti-racist teaching practices and environments in higher-ed:

Create a funding model, to increase over next three years, to advance culturally responsive practices and anti-racist teaching and education environments so POCI students feel safe and supported.
To join us or to learn more about CREAAC and this essential work, please reach out to Leiataua Dr. Robert Jon Peterson at: jpeterson@mneep.org.