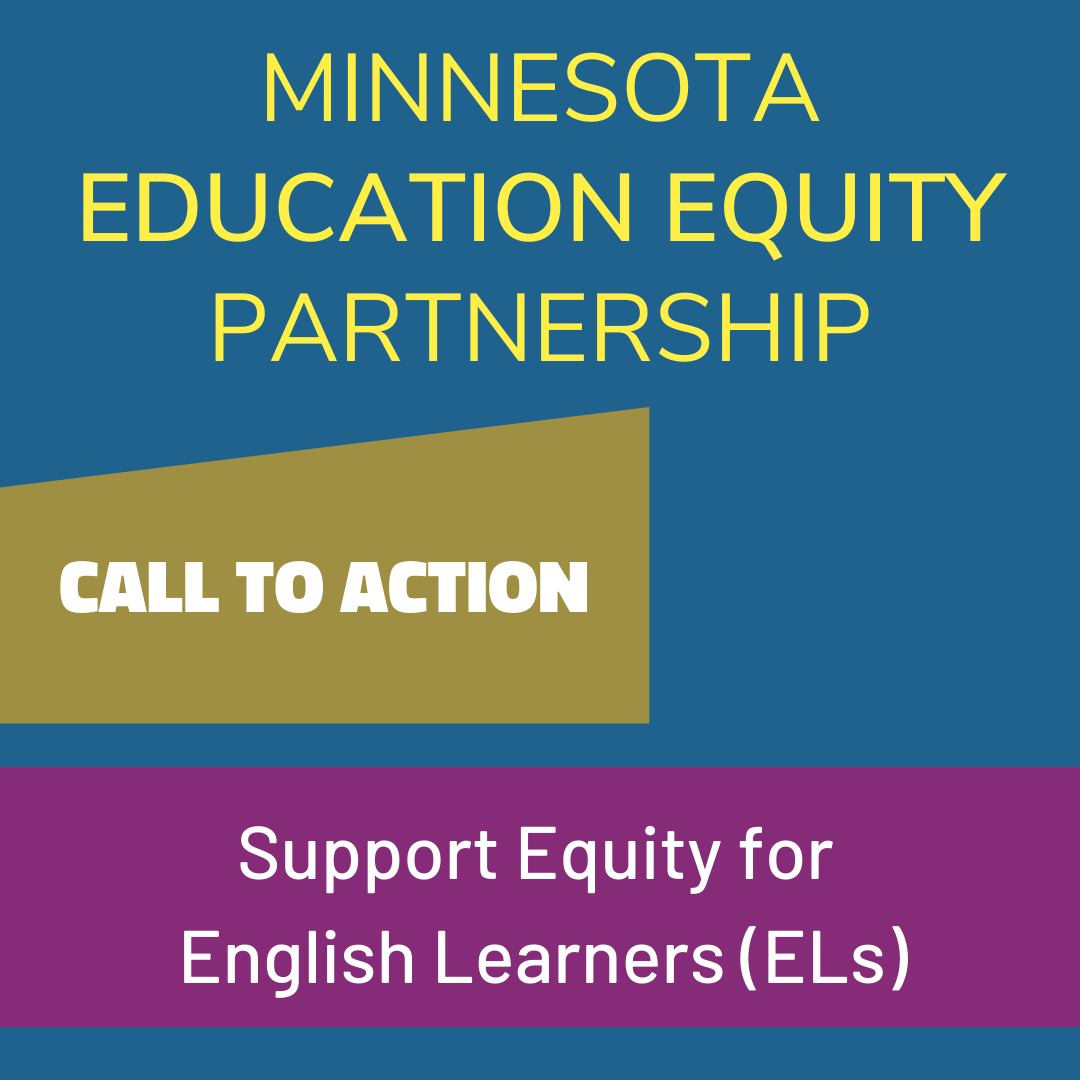 ACCESS testing should be postponed or waived for the 2020-21 school year
Dear Minnesota Department of Education Commissioner and state lawmakers:
Minnesota Education Equity Partnership (MnEEP) is calling on the Minnesota Department of Education (MDE) and state lawmakers to address the significant concerns being raised by organizations and educators in Minnesota over the upcoming testing requirements for Minnesota's English Learners (ELs).
Due to COVID-19 and health risks posed by in-person testing, MnEEP joins other organizations in requesting the MDE and state lawmakers to immediately postpone or waive state ACCESS testing of ELs for the 2020-21 school year.
MnEEP acknowledges that MDE has extended the ACCESS testing window, beginning January 21st through April 16th, but we maintain that ACCESS testing should be postponed or waived at the federal and state levels if we are to uphold standards of safety and race equity.
Many districts and charter schools still remain in distance or hybrid learning, which means that annual standards-based testing, such as Minnesota Comprehensive Assessments (MCAs), can be administered with the student and test administrator "in different locations."
It is especially concerning, then, that MDE will still require ELs to do in-person evaluations prescribed by the ACCESS test that put them, their families, and educators at risk amidst a global pandemic caused by COVID-19.
ELs are already disproportionately impacted by the COVID-19 virus. This growing student population, their families, their communities, and teachers should not be put further at risk by in-person ACCESS testing.
ELs in PK-12 are the fastest-growing student group in Minnesota, and represent 76,361 students across the state as of October 1, 2020.
According to the Minnesota Department of Health:
Latinx Minnesotans are testing positive for COVID-19 at nearly 3 times the rate of white Minnesotans; and
Black Minnesotans are testing positive for COVID 0-19 at nearly twice the rate of white Minnesotans.
Additionally, Indigenous, Black, and Latinx individuals have the highest age-adjusted rates for COVID+ deaths.
What's more, ACCESS in-person testing during a pandemic is especially disruptive for the families and students who are identified as ELs:
Learning will be disrupted and students will receive less EL instruction during the testing window, at a time when there are already concerns about the equity and amount of instructional time ELs are receiving in Minnesota.
Districts will have to use valuable time and resources preparing for and administering the ACCESS test, instead of directing those resources to instruction and student support.
ACCESS test data will be incomplete and invalid due to low student participation and the extraordinary circumstances in which students will have to take the test.
We urgently request equity analysis and equity action now to ensure the safety of students, families, and educators.
According to Minnesota Statute 120B.30, the Department of Education must develop a list of "extenuating circumstances" in which a student is unable to participate in statewide assessments. MnEEP maintains that the pandemic and the state's Safe Learning Plan for the 2020-21 school year are extenuating circumstances in which in-person testing should be postponed or waived for the school year.
Additionally, Minnesota Statute 120B.30, Subd. 5 on Commissioner-ordered suspension of assessments states:
"In the event that it becomes necessary for the commissioner to order the suspension of assessments under this section because of service disruptions, technical interruptions, or any other reason beyond the control of school districts, the commissioner must immediately notify the chair and ranking member of the legislative committees with jurisdiction over kindergarten through grade 12 education" (Minnesota Statute 120B.30, Subd. 5).
We urge the MDE and state lawmakers to take action now to ensure racial equity in standards-based testing and keep communities, families, educator, and students identified as ELs safe from increased risk of COVID-19.
—MnEEP staff and MnEEP Emerging Multilingual Learners (EML) Network