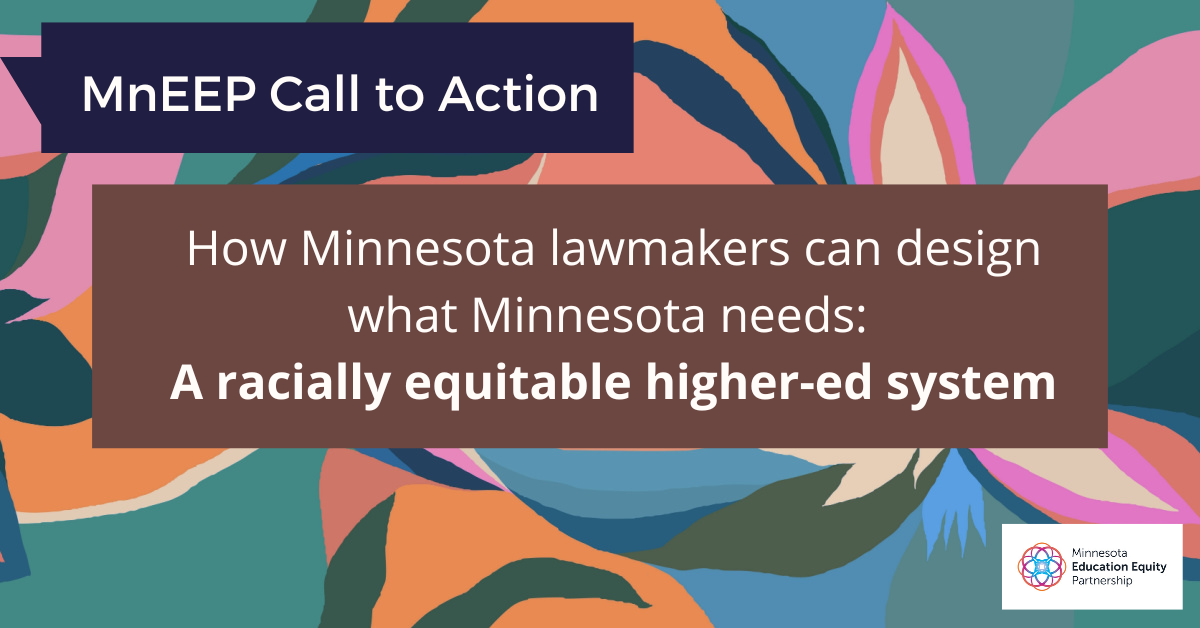 MnEEP Call to Action: Minnesota deserves a racially equitable higher-ed system now
How Minnesota lawmakers can design what Minnesota needs: A racially equitable higher-ed system
As the state legislative Higher Education Conference Committee convenes this week, it's critical our key policymakers use a "race equity lens" for policies and appropriations that increase racially equitable outcomes in college access and completion for Minnesota's rapidly growing population of People of Color and Indigenous (POCI) students.
Minnesota statutory law established a target goal that 70 percent of Minnesota adults ages 25 to 44 will have a postsecondary certificate or degree by 2025. MnEEP helped to set that goal over a decade ago. But we are not on track to meet that goal with POCI student populations. Currently, completion ranges from 20.5 percent to 60.7 percent among these communities. 
To increase degree attainment for more Minnesotans, we need to take dramatically bold action now to undo systemic inequities in Minnesota's higher-ed systems and design how we deliver educational opportunities to align with answering the financial and social challenges that POCI students face as they pursue their academic and credentialing goals.  
MnEEP calls on Minnesota lawmakers to prioritize the undoing of decades of racial inequities and harm our education systems have allowed, and commit themselves to using a race equity lens to build an effective higher education system by investing in and advancing:
Student financial aid reform, including higher levels of investment
Mandating anti-racist and culturally validating instructional practices
Investing in culturally validating student support programs
Reforming developmental education coursework and practices
 MnEEP's research, mirrored and affirmed by practices emerging across the nation, shows reform in these core areas is vital for undoing the systemic racism that has long denied POCI students a fighting chance to access higher-ed opportunities and succeed. 
This is a moral imperative for Minnesota
Achieving better outcomes for POCI in higher education in Minnesota is critically important to the overall health of Minnesota.  With this mutual goal of prosperity for all in mind, MnEEP will continue to maintain and advance the following as part of its legislative priorities:
Race equity and excellence in higher education need to remain the primary goal of the Conference Committee's work.

Balance the very real needs of competing higher ed systems while also meeting the real and ongoing direct needs of college-going POCI.

Any compromise made, fiscal or otherwise, must center upon measurably gaining more racially equitable outcomes for POCI students specific to college completion with a degree and/or a credential.

Minnesota's commitment to investing state dollars in the needs of students for access to high-quality and affordable college through the State Grant must be made first prior to using increases in federal grants like the Pell Grant into consideration.

Students who identify as POCI and attend an institution of higher education must be provided with the agency, irrespective of the policy landscape, to achieve their hopes and dreams for college and career.
Providing students, and especially POCI students, with voice and choice in self-determining what college path is best for them will not only drive good policy decisions in higher education, it will propel Minnesota forward as a state socially, politically, and economically as the direct result of centering race equity in culturally validating and powerful ways.
At MnEEP, we are counting on our elected officials to take the bold action we need now to expand opportunities and truly build a racially just Minnesota that uplifts and values the human dignity of all people.